Baked Cucumber Chips with Salt & Vinegar Flavor:
Easy to make baked salt and vinegar baked cucumber chips are a healthier low carb snack. And, they are low in calories which makes them almost guilt-free.

Although most of our cucumber plants got destroyed by a wild animal, we managed to get a few more cucumbers from the garden. A friend with a productive garden also gave us a couple more.
With all the cucumbers laying around, I figured I better find a good use for them. So, I pulled my Excaliber dehydrator out of storage so I could preserve some.
The dehydrator is basically just a low temperature convection oven used to slowly remove moisture from foods. It's perfect for preserving fruits and vegetables.
I decided make a batch of salt and vinegar baked cucumber chips. If you don't have a dehydrator, you can bake them at a low temperature in a regular oven as well.
I prefer using a dehydrator to make vegetable chips because they come out better. And, you don't have to worry about cooking them too long and burning.
However, it is a lot faster to make these baked cucumber chips in the oven. It takes only 3-4 hours compared to the 8-10 hours when using the dehydrator.
It's best to use a mandoline like this one to get consistently thin slices. I used an old Pampered chef mandoline slicer that isn't available any more.
If you don't like vinegar, you can leave it out for plain salted chips. However, salt and vinegar was always my favorite potato chip so I wanted to have a low carb version.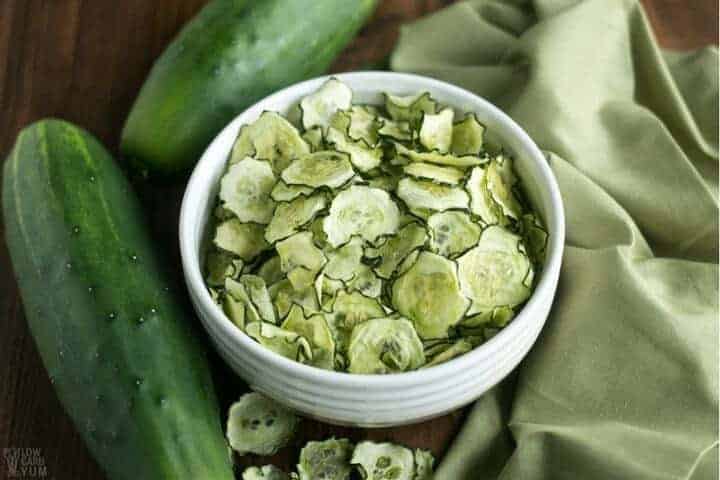 With the success of these yummy salt and vinegar baked cucumber chips, I'm ready to venture out into making other veggie chips. Kale chips has been on my list of things to try for a while. Zucchini is another one on my list and my friend Brenda, over at Sugar Free Mom, has a great recipe for zucchini chips.
The only reason I don't use my dehydrator as much as I'd like is because it's difficult with my work schedule. It's best to start early in the day and I don't have that kind of time before heading to work.
However, I'm getting very close to an early retirement which will give me a lot more time to experiment in the kitchen. Just take a look at some of the things you can make in a simple dehydrator.
Here are a few of the recipes I've tried in mine: fruit roll-ups, ground beef jerky, venison jerky, and dried cranberries. If I had a bigger kitchen, I'd have my dehydrator out all the time since it's so useful.
When the cucumber season is over, I may have to continue making these yummy salt and vinegar baked cucumber chips with store bought produce. They are a fantastic low carb snack that's low calorie too!
Although most people do well on a low carb high fat diet, sometimes you need watch your calories to prevent the weight from creeping up. This seems to be especially true for me now that I'm in my later 40s.
I've still got a couple more cucumbers left. I'm planning to use them in a cucumber tomato salad as we are now getting a lot of fresh tomatoes from the garden.
Low Carb Keto Salt and Vinegar Baked Cucumber Chips Recipe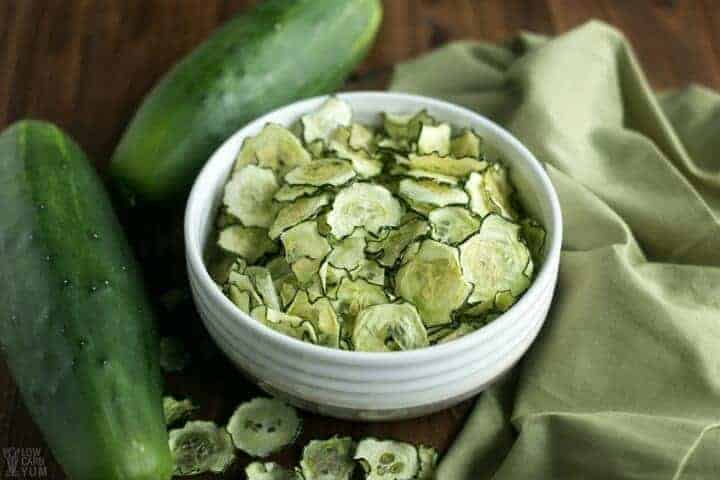 Do you grow your own cucumbers? What's your favorite way to eat them?
Baked Cucumber Chips
Easy to make vegetable chips are a healthier keto snack. Baking the cucumbers keeps them low in calories which makes them almost guilt-free.
Course Snack
Cuisine American
Keyword cucumber chips, keto chips, low carb chips, vegetable chips
Prep Time 10 minutes
Cook Time 10 hours
Total Time 10 hours 10 minutes
Servings 6 people
Calories 25 k cal
As an Amazon Associate I earn from qualifying purchases.
Ingredients
2 medium cucumbers or 3 small ones
1 tablespoon olive oil or avocado oil
2 teaspoons apple cider vinegar or vinegar of choice (omit for regular chips)
1/2 teaspoon sea salt or more if needed
Instructions
Slice cucumber very thin. Use a mandoline slicer for best results.
Remove excess moisture from slices using a paper towel.
Put cucumber slices in a large bowl and toss with oil, vinegar, and salt.
For dehydrator: Place slices on trays and dry at 125-135°F for 10-12 hours or until crispy.For oven: Place slices on parchment lined baking tray. Dry at 175°F for 3-4 hours or until crispy.
Allow slices to cool before serving.
Notes
If using foil lined pans, don't cut the cucumbers too thin and be sure to flip half-way so they can be removed easier.
Nutrition
Serving: 0.5cup | Calories: 25kcal | Carbohydrates: 1g | Fat: 2g | Monounsaturated Fat: 2g | Sodium: 396mg | Potassium: 51mg | Vitamin A: 50IU | Vitamin C: 0.8mg
Additional Info
Net Carbs: 1 g | % Carbs: 18.2 % | % Protein: 0 % | % Fat: 81.8 %