Satisfy your sweet tooth with these keto cheesecake fat bombs!
Whether you need a little after dinner keto dessert or maybe just an afternoon pick-me-up, these keto fat bombs are for you! From the creamy dark chocolate to the luscious cream cheese filling, these treats seem to deliver just the right amount of sweetness!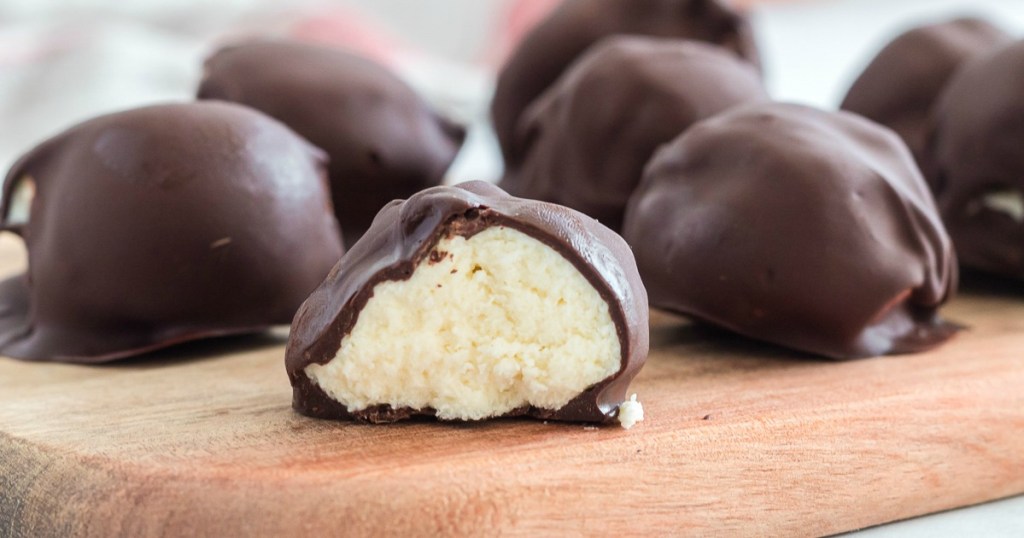 They would also be fun to bring to a dinner party as a hostess gift and/or to share with friends.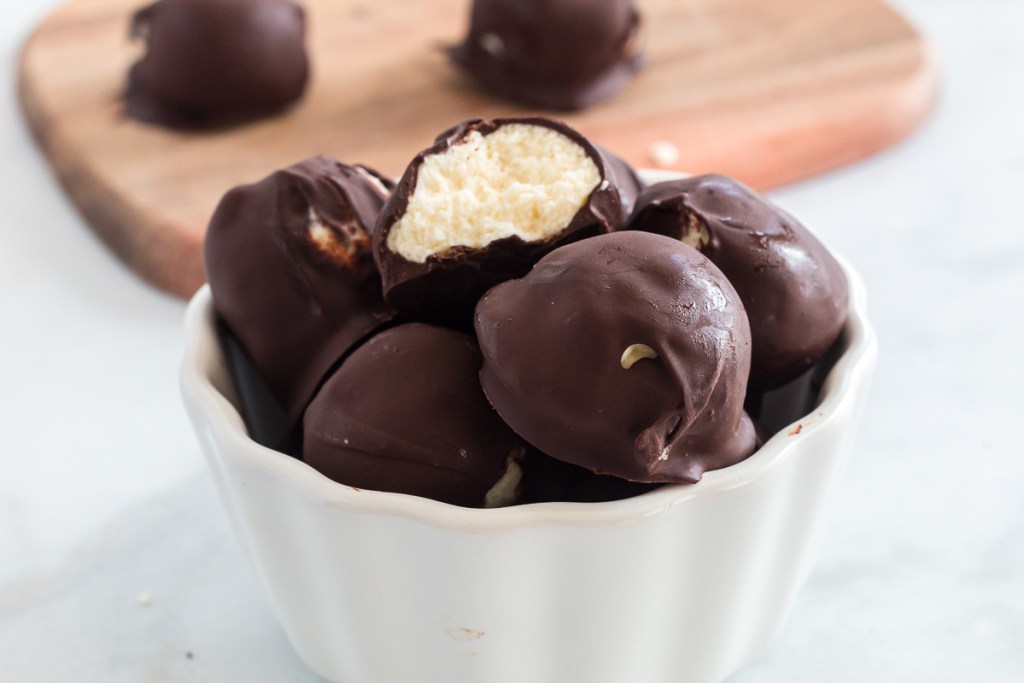 Hip Tips:
I opted to scoop out the cheesecake with a small cookie scooper. But you can get really creative if you opt to use a silicone mold (like a heart, star or shell) – perfect if you are creating these fat bombs for a special occasion.
Fat bombs can be stored in an air-tight container for up to one week. You can freeze these if you are making them ahead of time and they can be stored in the freezer for up to 3 weeks.
You can add any flavor to your fat bombs! I like to add 1 tablespoon of flavoring per batch and my favorite flavor to add is peppermint. It literally makes these fat bombs taste just like a peppermint patty. So good!
---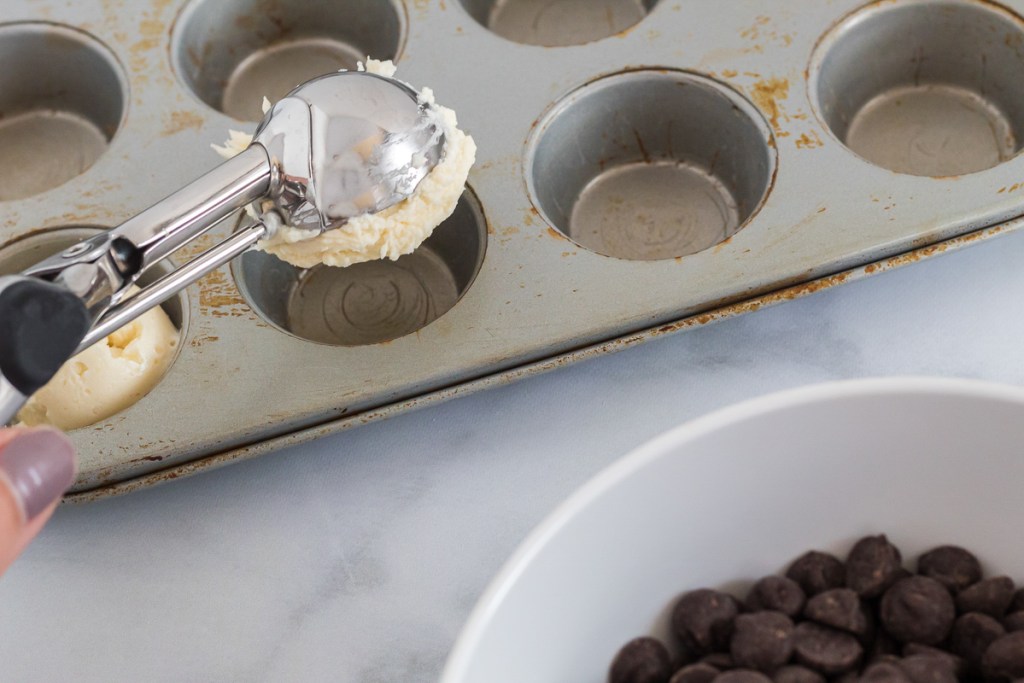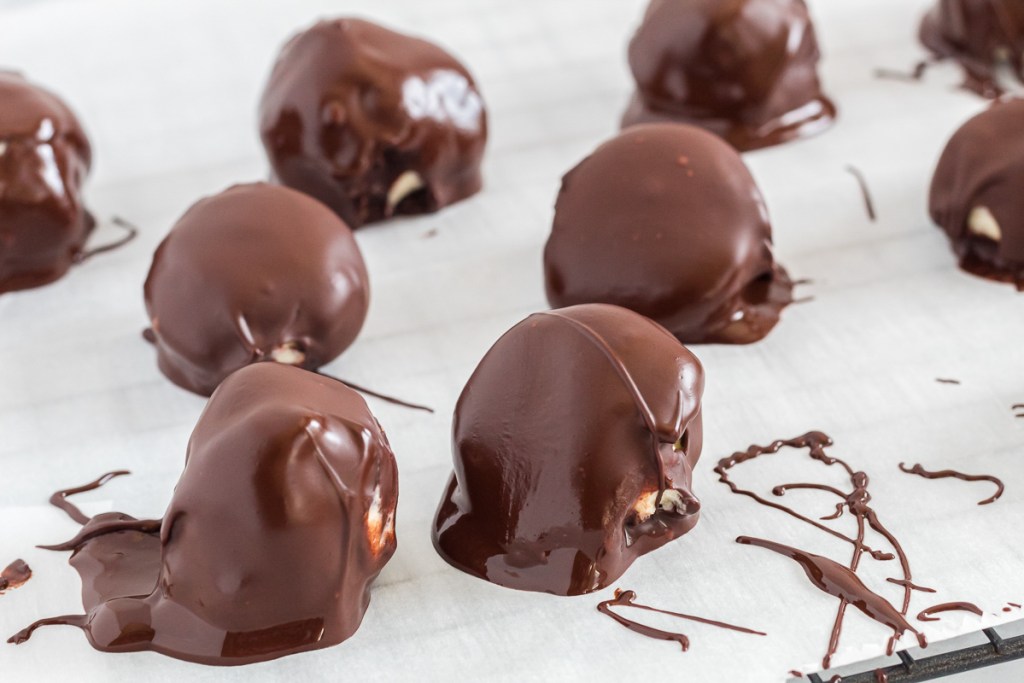 ---
CHOCOLATE COVERED KETO CHEESECAKE FAT BOMBS RECIPE
yield: 12 SERVINGS
prep time: 5 MINUTES
total time: 5 MINUTES
These creamy Cheesecake Fat Bombs dipped in smooth dark chocolate will satisfy any sweet tooth craving and are just 1 net carb per serving!
INGREDIENTS
8 oz. cream cheese at room temperature
5 tablespoons grass-fed butter at room temperature
1/4 cup swerve granular
2 tablespoons coconut oil
9 oz. Lily's dark chocolate chips
DIRECTIONS
1
In a large mixing bowl, add ALL ingredients except for the chocolate chips.
2
Mix with a handheld mixer for 2 minutes.
3
Scoop out cheesecake mixture and place on a cookie sheet or mini muffin tin.
4
Place in the freezer for 10-15 minutes to firm up. While fat bombs are in the freezer, melt chocolate chips to dip fat bombs in.
5
Remove fat bombs from the freezer. Using tongs, dip each fat bomb into the melted chocolate one by one. Place dipped fat bombs on parchment paper and let the chocolate harden. Once the chocolate has hardened, store in an air-tight container in the freezer or refrigerator until ready to serve.
6
Enjoy!
NUTRITIONAL INFORMATION
Yield: 12 fat bombs, Serving Size: 1 fat bomb
Amount Per Serving: Calories: 118, Total Carbohydrates: 6, Fiber: 1g, Sugar Alcohols: 4g, Net Carbohydrates: 1g, Total Fat: 12g, Protein: 1g
---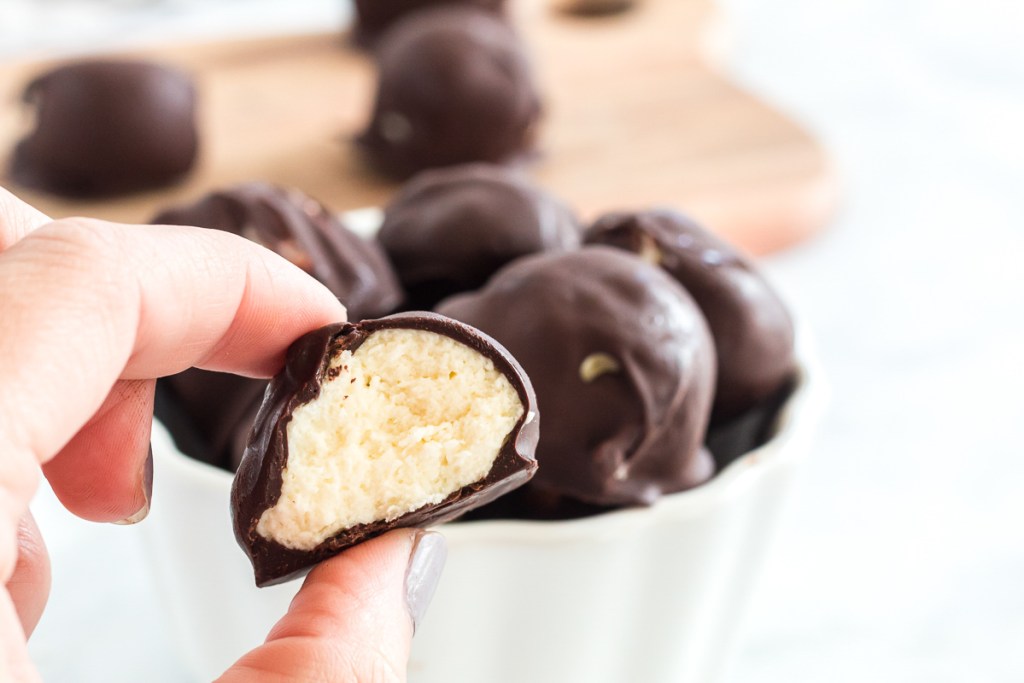 If you enjoy creamy cheesecake but you don't want to indulge in an entire slice, then these cheesecake fat bombs are a MUST TRY! They are quick to make, they store well, and they are perfect for sharing!